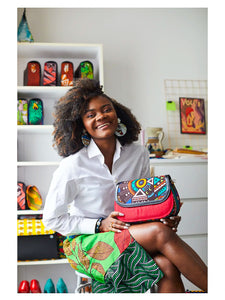 About Cecefinery
I am Cecile Essono; fashion stylist and proclaimed Afrochic queen. French girl, born and raised in Cameroon, now living in the beautiful London.
Cecefinery came out of the need to see West African fashion and accessories, represented under a new light for the modern and city living.
While working closely with African, Afro-Carribean designers and makers for the past 8 years, I realised that there is a new wave of African made creations the bigger market is overlooking.  
Styles where designs are eco-friendly, up-cycled, using sustainable methods and fabrics that are deeply engrained in the west African culture. Yet are slowly being forgotten despite them absolutely aligning with the new consumption awakening. And are great for the growing demand of African made goods.  
So, I am bringing Afrochic to be that cross-cultural lifestyle between the Western fashion I have always been influenced by and my African cultural craftsmanship, I realised not many are aware of.  
Every design sold on CeceFinery tells a cultural stylish story.
So, at Cece Finery, you get a new fun, authentic and meaningful cultural fashion option. And together, we bridge the divide, preserve ancestral methods, while feeling and looking uber stylish.
Testimonials
   A wearable piece of art, I love it!

Birgit
Absolutely stunning, perfect for a lovely day out to put your phone, keys, small makeup bag and other little bits.
Fabulous design looks just as it does in the photo.
Only little issues was one of the magnetic poppers is ever so slightly off centre so does not stay in place but otherwise I am very pleased with my purchase.
Wonderfully packaged.
Fast delivery.
I would order again from this seller without hesitation.

Natalie
super nice skirt! very happy customer!!

Anne-Margreet