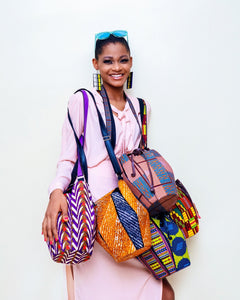 4 African fashion items the modern woman needs in her wardrobe.
Every stylish woman needs a stylish wardrobe. A wardrobe that would display your uniqueness and your sense of fashion.
From essentials garments to statement accessories, any stylish mind needs some in their wardrobe . And which is where African fashion trends have been and are currently great at providing those quaint and one off pieces that will add the most to your look, with the least efforts possible require. All you will have to do, is be !
African fashion has stormed the world and you may likely find many facets attractive. From colourful prints to the beautiful people wearing them.
But there are four basic pieces I will always recommend for any wardrobe needs. African clothes, African bags, African earrings and necklaces remains wardrobes essentials for the modern stylish mind..
AN AFRICAN PIECE OF CLOTHING
African clothing is a symbol of cultural creativity and status. The designs focus on the integration of two diverse values to make exclusive styles and colours just for you. Putting on a beautifully coloured kampala fabric to a cultural or any event or festival would make you stand out from others who stick to the regular wears. You would be admired as your clothing befits the occasion more.
 Imagine yourself on a sunny day having some fun at the beach. You may likely wear a hat on a comfortable outfit. People around you would wear something similar. Then, a person passes by clothed in a brightly coloured wax print material known as Ankara or a Danshiki. You probably would take a second look, a third or more. That individual would stand out and that could be you.
 Aside the traditional textiles like Ankara, Aso-oke of the Yorubas in Nigeria and the Danshiki, there are other hand woven materials and stone laced clothing you can find in African fashion. The information are made available on the internet. Our cart would also assist you in making a good choice.
A hand bag speak a 1000 words, handbags tell very much about us. While African bags are fashionable and thrilling to the eyes. You would be amazed at the designs available, so browse our selection . A quality bag, distinctive and eye catching is what we need. And that is why our African prints, handmade, bags collection might be the right fit for you.
Many African designers have shaped a number of maximum sought-out and supportable deluxe bags in the market. Industrie Africa also holds a good section. From mini clutch bags armed with glamour and sustainable luxury; to natural hangmen straw or rafia materials.  
AFRICAN NECKLACE AND EARRINGS
 Do you love Jewelleries?  Many have found it fashionable to wear an African necklace, bracelet, Ankara prints earring make them have that modern,cultural Afrochic touch. Browse our new collection Here
It is now seen as fashionable to wear African-inspired clothing, and accessories, especially Ankara designed ones as much as contemporary fashion. So, how about you style your favorite outfit this week with an Ankara bag and a necklace and share with us on our socials : @CeceFinery ?
---